Bullet wounds, torture and oppression aren't the only things that keep a man—or a woman—from being whole.
Debt. Honor. Pain. Solitude. These are things wounded war veteran Adam Wegener knows all about. Love—now, that he is not good at. Not when love equals a closed fist, burns, and suicide attempts. But Adam is one who keeps his word. He owes the man who saved his life in Iraq. And he doesn't question the measure of the debt, even when it is in the form of an emotionally distant, beautiful woman.
Yasmeen agreed to become the wife of an American veteran so she could flee persecution in war-torn Syria. She counted on being in the United States for a short stay until she could return home. There was one thing she did not count on: wanting more.
Is it too late for Adam and Yasmeen?
Touching Hearts: An Engineer who writes from the heart, touching others.
Full Interview in Qatar Tribune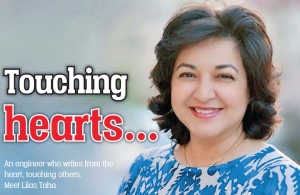 التاريخ والسياسة يحضران في هذه الرواية كسياق زمني يلقي بظلاله السوداء على المكان وشخصياته من دون أن يكونا صلب الحكاية. فسردية ليلاس معنية بالمقام الأول بما ينهش أفئدة شخصياتها ويؤرق وجدانهم وعقولهم من صراعات بين الخير والشر، بين الوفاء والغدر، الصدق والخيانة، المروءة والانانية
More on Al Hayat Newspaper جريدة
ومن جهتها قالت الدار الناشرة إن الرواية نجحت في "وضع أزمة معاصرة مثل أزمة اللاجئين في صدارة اهتمام عالم الأدب، وبطريقة تجعلها أزمة إنسانية يلمسها كل إنسان حول العالم حتى وإن كان لم يعايشها. ولا شك في أن موهبة ليلاس طه في رسم شخصيات تنضح بالعطف وتجيش بمشاعر حقيقية قد
Join me for a conversation with Georgetwon University in Qatar on January 24, 2018 at 6:00 p.m. For more information click here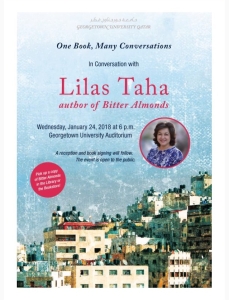 Join me to discuss rhetorical devices uses on Thursday, October 26, 3-5 pm at Tracy Gee Community Center as part of the Houston Writers Guild Fall/Winter Seminar Series. Free to all Houston writers. Click here for more details.
Let's help out Houston residents affected by hurricane Harvey. All proceeds will be donated to the Harvey Relief Fund. Starting date pushed to September 16. Let's work together on Novel Writing at the Fig Writer's Studio in Houston. For registration and more details click here
Had uplifting and deep discussions with the book club ladies of the American Association of University Women AAUW- Fort Bend chapter on July 3, 2017.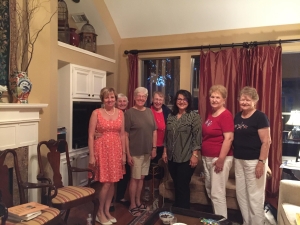 "وفي ثنايا الرواية تفيض الروح الإنسانية والنضالات المعقدة التي يخوضها الأشخاص العاديون وهم يحاولون التغلب على ظروف حياتهم الاستثنائية" – More on Aljazeera Arabic المزيد على
"A love story rooted in history and Palestinian culture, Bitter Almonds is inspired by the tremulous events in the Middle East and author Lilas Taha's family history." – read more about Bitter Almonds in the Gulf-Times
Proud to announce that Bitter Almonds won the 2017 International Book Award in the Fiction-Multicultural category.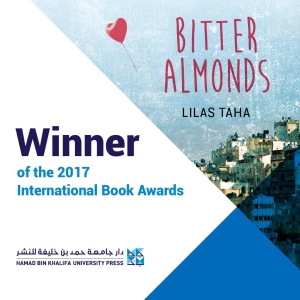 Sincere thanks to the members of the American Association of University Women AAUW Fort Bend chapter, Texas for an enlivening and heartwarming discussion. Honored to have been invited and included, February 2017.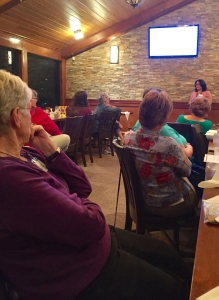 Taha will give a workshop on novel writing in Houston every Saturday in September, 2017 at The Fig Writers Studio. For full details on the interactive workshop click here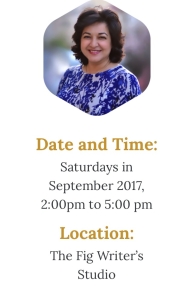 A lively discussion, fantastic setting and a wonderful book club group at Nofa Creative Space, Amman Jordan.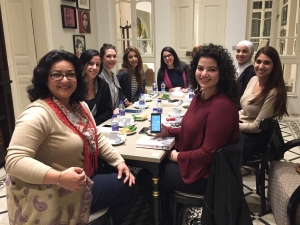 age-turning, heart-worming plot.
Women's Review of Books magazine Vol33, No. 4, July/August 2016
ramed by the title and recurring references, almonds serve as a metaphor for Palestine, referring to the fertile orchards left behind and the nostalgia felt by their former cultivators. Calling the book "Bitter Almonds" expands the metaphor to cover the refugees' disappointments and hard experience, as well as the plot's
ABC Treehut in The Hague, The Netherlands, in partnership with HBKU Press, hosted a reading and book signing for Palestinian-American author, Lilas Taha. Ms Taha read from her latest novel, Bitter Almonds. Click here for details.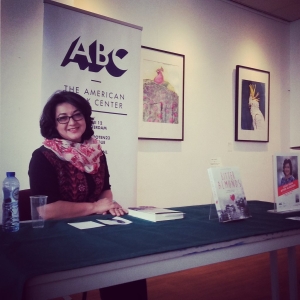 Bitter Almonds is a poignant exposition of Palestinian Arabs living in perpetual exile from their homeland. This is another historical fiction story on a subject contrary to what readers usually hear and read about from this war-torn corner of the Middle East, where residents are currently being forced into exile
BITTER ALMONDS is at #9 on the list by Bustle.com for January 2016's 13 best YA books to read when the snow inevitably falls.
Meet author Lilas Taha on Saturday, January 23, 2 p.m. at your Sugar Land HPB. Lilas will discuss and sign her new novel Bitter Almonds. Hardback copies available for purchase starting January 19 as specially-priced new items while supplies last.
he novel deals poignantly with both the issue of drawing the boundaries of responsibility along familial lines and, by extension, along national lines, in the sense that filial responsibility is tied to national identity. In doing so, it offers a hopeful glimpse into the possibilities of family-building and belonging beyond
"Lilas Taha's BITTER LMONDS exemplifies struggle of displacement, power of human spirit." Author interview and book discussion in Elan Magazine
Lilas Taha's great gift in BITTER ALMONDS is to create characters and scenes so richly resonant with life and vitality, that the complicated, lush world of the Middle East feels as tangible and close as any world you are living in. Crucial in our strange days? Perhaps more than anything.
–
Taha will be at a reading and discussion event for BITTER ALMONDS on October 7th, 2015 at Sakeyat Addaraweesh in Amman, Jordan.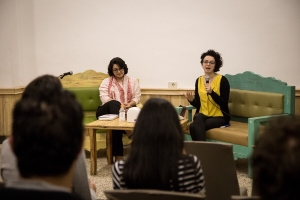 An inthralling mix of history and Palestinian culture. Riveting.
In The City: Short book review in The Lady
Both an engaging romance and a convincing period drama.
Read full review of Lilas Taha's bitter-sweet story about Palestinians in Damascus in The National
BITTER ALMONDS made it to the Gulf Times Newspaper. The article talks about books by Arab Women writers.
SHADOWS OF DAMASCUS was chosen as a finalist in the Mainstream w/Romantic Elements category of the Colorado Romance Writers 2015 Award of Excellence Contest. To see the finalists list on the CRW website, click here. Winners will be announced at the CRW conference in Denver, Colorado on
Lilas Taha's Bitter Almonds is the gripping story of Palestinian exiles in Damascus who search for a sense of home and belonging. Set against the backdrop of political upheavals and wars, the author goes beyond headline news and skillfully portrays the characters as fully-realized human beings who cope with tangled
Taha will be chatting live about book plot and character creation on Coffee Time Romance on March 24th at 9:00 pm Eastern Time.
Taha will be discussing and signing her book Shadows of Damascus at the River Oaks Bookstore in Houston, TX on November 15 from 4-6 pm
Taha will be signing books at the Texas Book Festival 2014 in Austin on Oct 25 and Oct 26, from 10:00 am – 1:00 pm each day. Texas Book Festival 2014
An incredible tale of modern day romance born out of the violence in the Middle East. Readers will be pulled into this spellbinding story." 4 Stars From InD'tale Magazine October 2014 issue InD'Tale Article
Taha signed with Bloomsbury QF Publishers to publish her second novel BITTER ALMONDS in multiple languages. Estimated release date is summer 2015.
Congratulations to P. L. Rickrode for winning the bid for Shadows of Damascus on the Brenda Novak Online Auction for Diabetes, bringing the total contribution for Diabetes research to $275,000 this year!
Lilas Taha presents a story closely related to modern day events. The story line of the book is not your typical romance novel, yet offers the insight of how two individuals can overcome differences. The characters are believable and not made out to be heroes nor have the illusion of
I love realistic stories based on current events. Stories that make me think, force me to ask–could I do what these characters did? Exciting plot, fun read. Highly recommend "Shadows of Damascus." I read it in one afternoon. – American Scribe.
Shadows of Damascus book is featured on USA Today HEA Site under Romantic Suspense on 1/27/2014. "Nothing sweeter than newer contemporary romance" USA Today
With this book Lilas has put human faces to two things the American public doesn't really understand: the proud, honor-bound war veteran trying to make peace with his past, and the innocent people trapped in a once-peaceful country that's now destroying itself. I found myself identifying, to different degrees, with
A story of danger, intrigue, emotional upheaval, hidden love, and unexpected events crafted by a gifted author into a compelling and poignant tale that will keep the reader thoroughly engrossed until the very end. An unforgettable story unique to our times that no one should miss. – Author Barbara Andrews
Manuscript placed as a quarter finalist in the Amazon Breakthrough Novel Award Contest 2013. Some of the Judges comments:
– There is a love story here, a theme of redemption and gratefulness. The plot gives the story some heart-pounding thrills, based on real events that are happening in Syria right now.