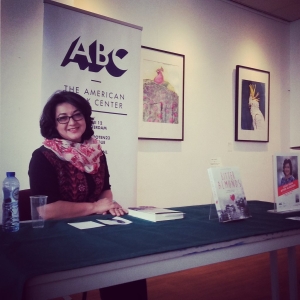 Lilas Taha is a writer at heart, an electrical engineer by training, and an advocate for domestic abuse victims by choice. She was born in Kuwait to a Syrian mother and a Palestinian father, and immigrated to the U.S. as a result of the Gulf war in 1990.
She earned a bachelor's degree in Electric Engineering from Kuwait university and a master's degree in Human Factors Engineering from the University of Wisconsin- Madison. There, Lilas met her beloved husband and true friend, and moved with him to Texas to start a family. She is the proud mother of a daughter and a son. Instead of working in an industrial field, she applied herself to the field of social safety, working with victims of domestic violence.
Pursuing her true passion for creative writing, Lilas brings together her professional interest and Middle Eastern background in her novels.
Links:
Videos:
Join me to discuss rhetorical devices uses on Thursday, October 26, 3-5 pm at Tracy Gee Community Center as part of the Houston Writers Guild Fall/Winter Seminar Series. Free to all Houston writers. Click here for more details.